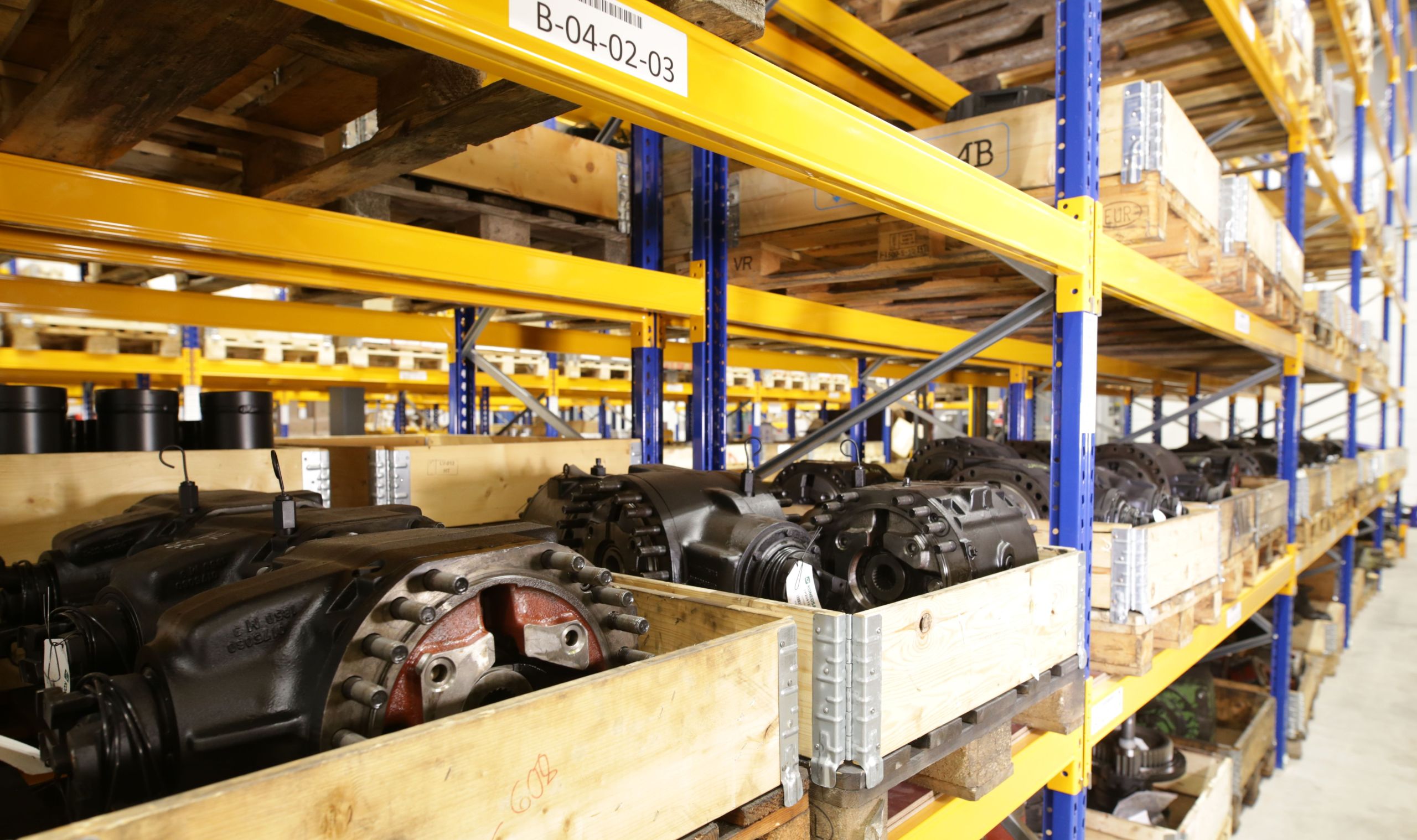 The reman part is a wise choice! It is cheaper than a new component and also an environmentally friendly way of extending a machine's life cycle, because the broken part is repaired for use again instead of being scrapped. A reconditioned part is often the fastest way to get a broken machine back to work, because we have a large stock of ready-to-use components. We offer reconditioned components for the most common forest machine brands, such as John Deere, Timberjack, Komatsu, Valmet, Ponsse.
For reconditioning, we use spare parts by the original manufacturer. In case of transmission and loader components, we also use parts manufactured or reconditioned by us. We perform the necessary machining and welding works flexibly at our own workshop. We perform test runs using our own test run equipment and document the work, parts replaced, and test run results. We grant a 6-month warranty to the reconditioned components.
We deliver the customer a ready-made replacement part from our warehouse. The customer delivers to us the customer's broken component, e.g. a hydraulic pump. We invoice a core charge, which we return when the repairable component arrives at us. If the component is not returned within the agreed time or is beyond repair, the core charge will not be refunded.
We can also recondition the customer's own component back to his own use, in which case it is a normal maintenance work, and there is no core charge.
Please follow these instructions when returning a component to Koneosapalvelu for reconditioning: Customer guidelines for returning used parts (pdf)
Our supply of reconditioned parts focuses on the following product groups
HYDRAULICS
-Drive hydraulics pumps and motors (Bosch Rexroth, Danfoss, Linde)
-Work hydraulics pumps (Bosch Rexroth, Vickers)
-Gerotor motors (Danfoss)
-Radial piston motors (Bosch Rexroth, Poclain)
-Saw motors (Parker)
-Hydraulic cylinders
-Directional valves (Parker)
TIMBER LOADERS
-Slewing mechanism
-Pillars
-Complete reconditioned cranes
TRANSMISSION
-Gearboxes
-Back ends
-Wheel hubs
In addition to replacement parts, we also offer new spare parts and dismantled parts for forest machines and loader cranes. In our versatile selection, you will find a cost-effective option depending on the age and use of the machine, and thus save on repair costs.
Reconditioned parts in the web store
You can conveniently browse the stock selection of our reconditioned components in the online catalog and send a request for quotation for the products you are interested in through the catalog.
If necessary, we can quickly recondition a component from frames and spare parts in our warehouse, so it is worth contacting our sales, even if you cannot find the component you need in the product catalog.
How can we help?